Please keep in mind that the custom handgun grips made here are not production products in any way. They are not made and fitted to "house" guns or templates. They are made for and fitted to your gun only, which means I do need to have your handgun in my shop. Machines are used where possible for cutting and rough sanding, but most of the work is done by hand using chisels, rasps, files, and sanding blocks. This is the way Roy Fishpaw taught me, and the result will be a true custom handgun grip, serial numbered to your gun.
Most 2 piece grip sets, such as a standard single action army grip, are in the $695 range. Bisleys are about $750 and Magna style are about $800. Wrap around stocks for a Smith & Wesson will be quoted after conversation. This includes your choice of beautiful AAA wood. This may be more expensive than many other grips, however these are not made like most others.
Horn and exhibition wood carry extra costs. 
One piece grip sets (where possible) are an additional $150. 
I am happy to email or text photos of wood so you can select what pleases you the most.
My standard finish for wood stocks will be a satin sheen. My thought is that beautiful wood needs a little sheen to bring out the color and grain to its fullest potential. The finish is more in the wood than on the wood. This process can take approximately 10 to 15 various applications of sanding the finish into the wood, and rubbings with various materials to complete. 
I have tried many finish materials over the years, and one of the most pleasing finishes I have come across is Timberluxe, which is linseed oil based. It is capable of a beautiful finish, and with it one can obtain a low, medium, or high sheen.
Below are a few close up photos that attempt to show how close a fit I aim for.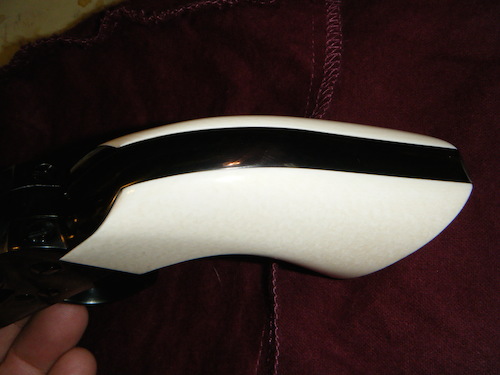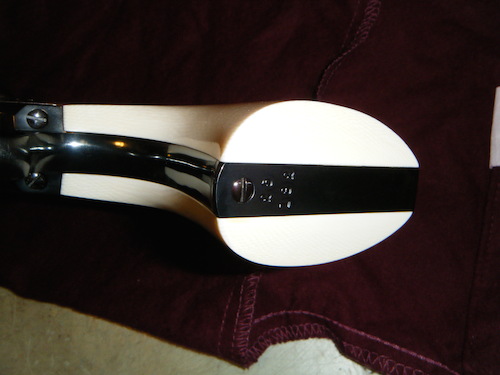 Since I am an FFL holder, you can ship your handgun directly to me via UPS Next Day or 2nd Day Air, or Fed Ex Next Day (Fed Ex may allow other levels of service but you will need to check this with your Fed Ex office).
If you are shipping through a FFL dealer, you can also use Priority Mail through the US Post Office (Postal regulations only allow FFL to FFL shipping) which may cost less. However you are shipping it is wise to select the adult signature required option.
Please oil and pack your revolver well. Include your full contact information inside the box with the value you want me to declare with the carrier when returning to you. Return shipping will be via UPS 2nd Day Air or Priority Mail.
Feel welcome to call and discuss the options.